Change is a constant in the business world, and the financial landscape is no exception. Small business owners, be it online or offline, are at the forefront of this transformation with payment methods evolving rapidly. Keeping ahead in this ever-shifting environment isn't just advantageous; it's absolutely vital for success. Traditionally, businesses relied on checks and cash for transactions. The digital age, especially post-pandemic, has now ushered in a new era of payment methods. Debit and credit cards, wire transfers, and modern payment solutions have become the norm. In the near future, these methods will undergo even more significant changes. In this blog, we'll talk about why payments are changing so quickly and discuss five big payment trends for 2024. 

Why you need to stay ahead of the competition
Today, it's not enough to just follow payment trends when they happen. It's important to be ready for these changes and be prepared to use them.  
Customer expectations: In 2024, customers will expect payment methods that are not only up-to-date but also very easy to use. To keep your current customers happy and attract new ones, you must make sure their expectations are met, ensuring they're pleased with your services. 
Security and fraud protection: As payment methods change, fraudsters find new ways to steal money. Being prepared means you can use advanced security measures to protect your money and your customers' money from cyber criminals. 
Saving money: Keeping up with payment trends can often help you find ways to spend less money for your business. These money savings can really add up over time, which is great for your financial stability and future growth. Many of the modern payment options available are budget-friendly and can assist you in achieving this. 
5 Payment Trends to Expect in 2024
Instant payments
In 2024, instant payments have become the usual way to pay. In a world where things are happening faster, paying for things has also become quicker. Whether you're a business owner getting paid or an accounting firm, instant payments are your answer—they're fast, easy, and safe. Waiting for days or weeks for money to come in, like with checks or credit cards, is almost a thing of the past. The introduction of the FedNow Service has been a significant step forward in this direction. The research indicates that 42% of businesses are already making use of instant payments, and an additional 68% are planning to integrate them into their operations by 2025. 
Contactless and
m
obile
p
ayments
The future of payments is undoubtedly contactless and mobile. The rise of NFC (Near Field Communication) technology and use of smartphones have paved the way for contactless and mobile payments. This comes hand in hand with the need for convenience and ease of use in our digital age. For years, we've seen bulky payment processing machines for credit cards have evolved to small-size scanners, and payments can be made with a tap from mobile devices. It will be particularly interesting to be how and if "banking-as-a-service" will lead this space and involve instant payment processing. Small businesses need to adapt to this trend, providing the convenience customers desire.  
AI and
m
achine
l
earning for
f
raud
d
etection
As payment methods advance, so do the techniques used by fraudsters. In response, artificial intelligence and machine learning are becoming increasingly critical for fraud detection. 
These technologies can analyze vast amounts of transaction data in real-time to identify patterns, anomalies, and potentially fraudulent activities. With machine learning, the system continually improves, adapting to new fraud tactics and reducing false positives, and we will see flagged activities at an instant scale. Small businesses and accountants who incorporate these technologies into their operations will protect their assets and maintain the trust of their clients. 
Regulatory and
c
ompliance
c
hanges
We're going to see more of a push for protecting consumer privacy and data privacy regulatory and compliance on a worldwide scale. At the forefront of this is we're going to see a push for open banking that gives consumers more control over their financial data and offers a broader range of financial products and services for them. There will be heightened pressure collectively on regulators, policymakers, banks, fintech, and businesses to ensure the safeguarding of user's data and prompt seamless e-commerce payment experience. We can see this approach with the widespread adoption of ISO 20022 for transactional messaging standards used globally. 
Cross-
b
order
p
ayments
As globalization continues to reshape business, cross-border payments are on the rise. The market for cross-border payments is expected to increase from $176.5 billion in 2021 to $238.8 billion by 2027, with a yearly growth rate of 5.3%. Businesses need to navigate international payment methods and associated challenges. Understanding exchange rates, fees, and compliance issues is crucial. 
Preparing for 2024's payment trends 
Embracing the payment trends expected in 2024 requires a proactive approach. Small businesses must stay informed, continuously learn, and be open to adopting new technologies and practices. Here are some steps to prepare for the payment trends: 
Education and training: Invest time and effort into learning about new payment technologies and methods. Stay updated on the latest developments in the financial industry by taking courses or attending workshops. Stay curious and keep exploring what's new. For ideas on where to learn without affecting your pocket, check out our Small Business Free resources guide.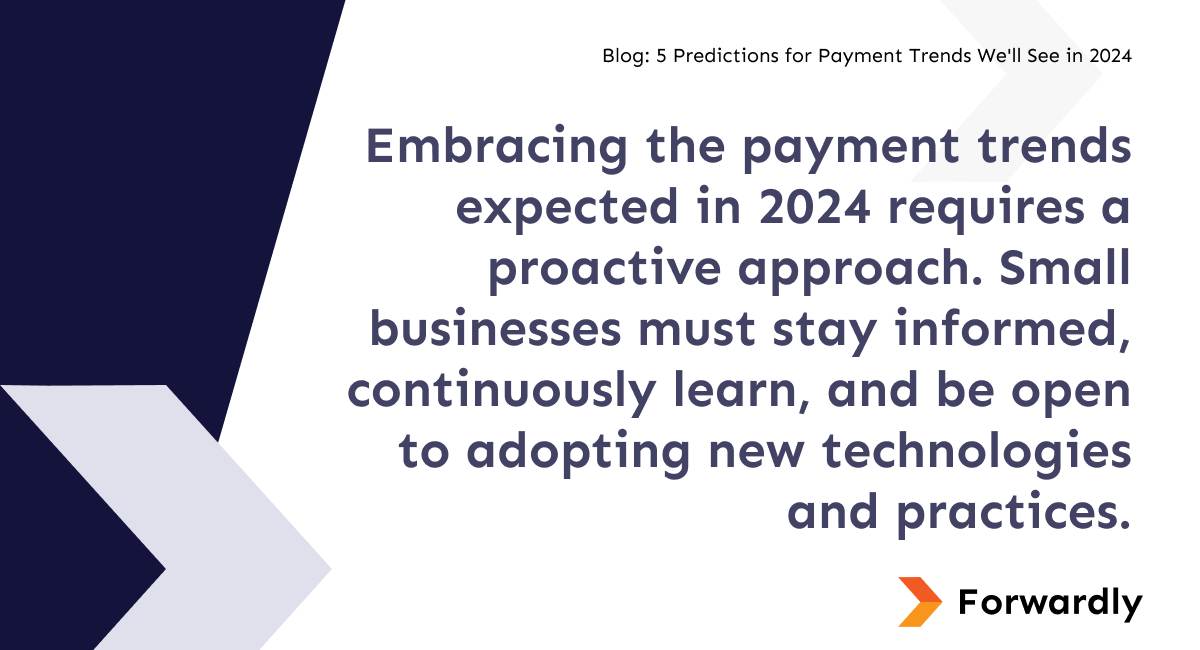 Adopt technology: Join hands with modern payment solutions that are fast, affordable, and safer. Take the help of tools that help detect and prevent fraud. You can use smart computers and software to make your financial processes more secure. These tools are like digital security guards for your money. 
Compliance: Pay close attention to any changes in the rules and regulations that apply to your business or financial practices. It's crucial for both small businesses and accountants to follow the law. The consequences of not doing so can be deadly to a small business; if not financially, then through mental stress and the loss of valuable work hours.  
Cross-border expertise: If your business involves working with people or companies from other countries, you need to know how to handle payments that cross borders. This can be a bit tricky, so it's important to learn the ropes when it comes to international payments. 
Customer-centric approach: Put your customers at the center of what you do. Make sure they find it easy and convenient to pay you. When you make things simple for them, they'll be happier, and that's great for your business. It's like giving them a smooth and pleasant payment experience. 
Time to be part of the revolution
Join us at Forwardly to be part of the smarter payment revolution. Instant payments are the future of transactions in 2024, and the world is already moving ahead of the USA. Don't lag behind with outdated, slow, costly payments. With Forwardly, you can embrace the convenience and speed of instant payments, ensuring your money moves swiftly, securely, and at an affordable cost. Say hello to hassle-free financial transactions and stay ahead of the game!