Small businesses are the foundation of the US economy, making up 99.9% of businesses across the US. In today's economic landscape, accountants are constantly challenged with managing efficiency and speed to stay afloat. More than ever, small and medium-sized business (SMB) owners expect better solutions and services and seek reliable new solutions to accept payments faster and help their business cash flow. That's where instant payments come in.  
Forwardly is the first of its kind in North America – an instant business payment solution designed for accountants and small businesses, a neglected and underserved market in the US. Forwardly's lightning-fast payment solution simplifies and accelerates business payments, helping accountants streamline payment processes and enhancing cash flow in there and their clients' businesses.  
Forget bank hours
Most people have experienced the pain of reaching the bank just after it closed. With new technology comes new solutions. Thanks to The Clearing House's RTP Network and The Federal Reserve's FedNow Service, receiving money anytime is now possible. Whether it's first thing Monday morning, or ten minutes to midnight on the 31st, when a client pays through Forwardly, money is deposited into the payee's bank account in seconds. 
Eliminating bank hours eliminates other things as well like the frustrating delays often associated with traditional payment methods like checks, credit cards, and ACH.  
Also read, The Myth of "Instant ACH" Transfer
Seamless onboarding
With business comes red tape, which is why Forwardly is forward-focused. Balancing the importance of regulation with a seamless, easy-to-understand onboarding isn't easy, but we've mastered it. Once your Forwardly account is synced and set up, you can begin requesting client payments immediately Forwardly offers a user-friendly interface that simplifies sending and requesting payments. Another benefit: Forwardly integrates directly with accounting software systems QuickBooks Online and Xero, automating transaction reconciliation so that you don't have to manually update anything. 
Reduced fees mean more business growth
Forwardly's transparent pricing structure is built to stand against competitors. Sending payments is always free. For receiving payments, there's a nominal flat fee of 1%  plus $1 per transaction, capped at only $10 per transaction. Many businesses are paying 2% up to 3.5% with credit card fees. Switching to Forwardly can give needed breathing room back, or even help businesses reinvest their savings back into their business or emergency fund. Best of all? Forwardly doesn't charge a monthly fee, unlike other slower digital payment options. 
Keeping payments secure
Keeping financial data secure is a serious business and one that every technology company should have front of mind. Forwardly prioritizes your account and information security, and is proud to have received its SOC 2 Type II certification, in a process approved by the AICPA. We implement robust security measures to ensure safe and secure payments and reduce fraud. With data encryption, multi-factor authentication, and high data protection standards, Forwardly prioritizes the confidentiality and integrity of your sensitive financial information while sending and accepting payments.  
 
How our users "Think Forwardly"
Don't just take our word for it. Accountants using Forwardly have experienced improved cash flow management, reduced payment delays, and enhanced client experience. With instant payments through Forwardly, businesses can immediately start seeing their savings instantly with their clients.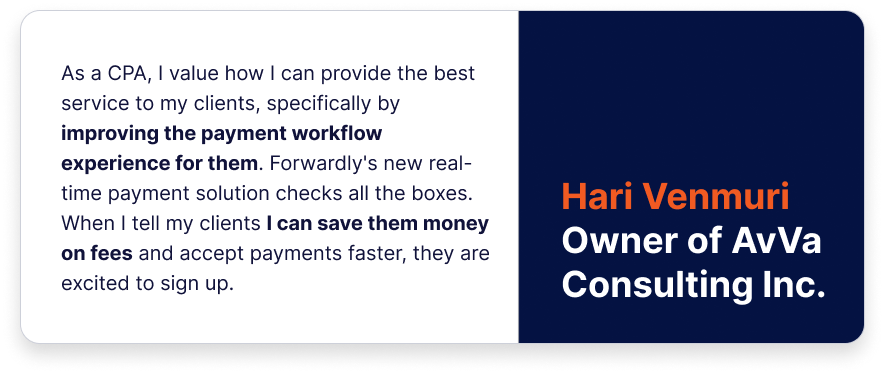 What are you waiting for? There's no need to wait for payments with Forwardly. Don't miss out on the opportunity to speed up your business payment processes. Start thinking Forwardly today and experience the most cutting-edge way to send free instant business payments and accept payments quickly.